SUNDAY MORNING

WORSHIP
Midway Baptist Church is a growing church, Affiliation with Florida Baptist Convention and Lake County Association. Christ Centered, missions minded, and family oriented, located in Leesburg, Florida. Our community is a blend of life long residents and seasonal vacationers. We are surrounded by beautiful lakes, a wide range of family activities and a great place to live, work, and raise a family.
Midway is a Bible believing, joyful, loving gathering of Christians from all over Lake County, Florida. We are a traditional church. We sing from the hymn book, we make use of the piano. We preach and teach from the whole Bible, making use of the KJV.
Sunday, Family Worship @ 10:30 AM.
Sunday, Digging Deeper @ 6:00 PM.

SUNDAY SCHOOL
(ADULT & CHILDREN)
Do you enjoy small groups?
We have adult and children groups that meet Sundays,
Currently the adults are studying the Book of Hebrews.
Our children's class are learning fundamental Bible basic, and prayer.

PRAYER MEETING
(Our Calendar)
Every Wed., Evening 6:00 PM
Prayer Breakfast Saturday

MISSONS
We support many faith based missions both in our community, state, and around the world.
Go ye into all the world, and preach the gospel to every creature.
OUTREACH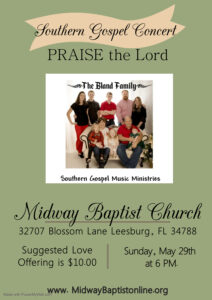 May 29th Gospel Concert- The Bland Family at 6:00 PM.
June 18th Father's Day Brunch 11:00 AM.

DISCIPLESHIP
The purpose of Midway Baptist Church is to glorify God by making disciples who are committed to Exalting God, Edifying one another, equipping faithful believers, and evangelizing unbelievers.